WINDOWS TO THE SOUL

By BILL MARVEL Staff Writer
Published April 3, 2005
Dallas Morning News

Randy Trawnik bends closer, closer, closer, until he is almost nose to nose with Narin Haji. He stares intently, and the 12-year-old girl stares back. Neither seems particularly embarrassed by this very close encounter, which continues for several seconds.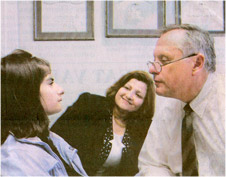 Ronahi Abdullah watches as Mr. Trawnik takes a close look at the prosthetic eye he has made for her 12-year-old daughter Narin Haji.
Then Mr. Trawnik jumps up and walks out of the room. Moments later he is back holding a small object in his hand. He sits and once again bends closer, closer. The object is Narin's eye - or soon will be. He gently slides it into the empty socket, then hands the girl a mirror. She looks, and a shy smile begins to spread across her face.

Narin, whose family came to Dallas from Iraq during the first Gulf War, injured her left eye when she was 2, in an encounter with a glass coffee table. For years the family lived with a dilemma: To try to save the eye, which no longer functioned? Or to have it removed? And then what?

The answer was removal, around Christmas, and now replacement with an artificial eye, created by Randy Trawnik, who is one of only a handful of certified ocularists in Texas. That means he can fashion an artificial eye, an "eye prosthesis," from scratch. (Please don't call it a glass eye; they make them out of acrylic plastics these days.)

Bankers and beauty queens come to Mr. Trawnik. He has been eye-to-eye with the chief of police of Oman, a Saudi princess and a national television news personality whose name he will not divulge. And with lots of infants and toddlers. You'd be amazed how many humans are born into the world without an eye.

He has leatherette albums filled with photographs - graduation photos, wedding photos, class portraits, snapshots with thank-you notes. But it is the before-and-after photos that amaze. One would not guess the absence or presence of an eye would make so much difference. But it does.

"People without eyes are treated differently," he says. And he should know.

An accident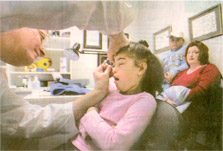 Ocularist Randy Trawnik removes the artificial eye of 6-year-old patient Brianna Thompson.

He aimed to be a soldier. Enrolled in high school ROTC, full of hopes for an appointment to West Point, he was attending a military exercise May 31, 1968 - "I'll never forget that date" - when somebody's rifle went off. It was only a blank, and Trawnik was just turning his head, but the charge caught the side of his face, splitting his nose and taking out his left eye and a chunk of his ear.

Embittered, he switched career goals and eventually enrolled in the University of Texas at Arlington intending to become an advertising artist. "One day," he recalls, "one of my neighbor's granddaughters lost her eye to a BB gun. BB guns are the bane of my existence."

The neighbor called his mother, and she suggested the child talk to Randy.

"At spring break, I came home from college with a sack of dirty laundry and a bad attitude," he says. His mother asked him to talk to the girl who had lost an eye. "I said, 'I won't do it.' She said, 'Then I won't do your laundry.'"

The neighbor's granddaughter was 10 years old and in tears. "Hey, it's not so bad," Mr. Trawnik told her. "How do you know?" she demanded. So he took out his eye and showed her.

"I still had all those demons from my own loss," he says. "But afterward I thought, 'Hey, this felt pretty good.'"

The same weekend, Mr. Trawnik got a phone call from the ocularist who had fashioned his own eye. John H. O'Donnell was looking for an assistant, a sort of apprentice whom he could train. Would Mr. Trawnik be interested? It was, he recalls, as though a door had suddenly opened.

Decades later, he still paints pictures occasionally. A watercolor, an original Trawnik, hangs on the wall of the busy reception room in his fourth-floor office in a Preston Center office tower. But he's more likely to be mixing pigments from a rainbow array of jars and stroking them onto a tiny foil disk. Working with a No. 00 sable brush, one of the finest Winsor & Newton makes, he alternates layers of pigment and transparent plastic, striving for the luminous effect of the living iris.

Forget what the song lyrics and the driver's licenses say: Nobody has eyes that are blue or brown or green. Every human eye is a unique blend of colors, Mr. Trawnik says, and that blend will subtly shift over a lifetime, from the vivid colors of a toddler's eyes to the fading hues of the elderly.

"I train ocularists, and the one thing I tell my students is: Being an artist means learning how to see. You have to dissect form, color, depth, space, because a prosthesis is all those things."

It's important to get it right because we human beings read one another through the eyes.

Eye power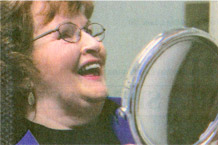 Inez Evans of Longview, Texas, smiles after taking her first look at the prosthetic eye that Mr. Trawnik has just fitted for her.

Inez Evans knows that well. She is seated in the chair now, next to Mr. Trawnik's desk, and once again he is leaning closer ... closer.

Mrs. Evans drove in from Longview with her husband this morning. She lost her right eye as the result of a series of strokes. Before lunch, Mr. Trawnik studied her remaining eye, then took a wax impression of her eye socket and cast the plaster mold from which the ultimate acrylic prosthesis was made. He painted the iris, a pale sea-green with flecks of brown and yellow. As a last step, he touched up the white part - he uses a length of thread to paint in the delicate veins. In the meantime, Mrs. Evans went off to a nearby sandwich shop for lunch.

Now she is back to be fitted with her new eye.

After a few minor trims and adjustments, the ocularist slips in the new eye. He asks her to glance left, then right. The new eye tracks perfectly.

Then he hands her the mirror and she appraises the result. "It sure looks better," she says.

A funny thing happened during lunch, she says. When she went to the sandwich shop, she forgot to wear her dark glasses. Without an eye, she was no longer just another human being having lunch, but a curiosity, a spectacle.

"People just look and look," she says. "I kept thinking, what are they looking at me for?

"And then - oh, oh - I remembered."

Now she can go anywhere and not one in a hundred will guess her secret.

"We're in the business of the ultimate camouflage," says Mr. Trawnik. "I want to make sure that after I do my work, no one knows I was there."