Media Coverage regarding our patients and services.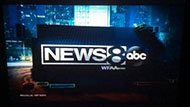 Byron Harris, a 40 year reporter for WFAA-TV, writes Byron's Lens.
Eyemaking is taught thru apprenticeship. Randy Trawnick has trained half of the ocularists in the state.
Sixty percent of the patients who come to Dallas Eye Prosthetics have lost an eye through some kind of trauma such as a gunshot, a car accident, or a mishap at work. Adult and childhood diseases cause most of the other losses. Both kinds of patients must have their prosthesis replaced several times during their lives because eyes change shape as we grow older. An infant may need a prosthetic replacement a few times a year as it grows up. Without a such size updating, a child's face may grow asymmetrically. In older adults, the eye becomes smaller, requiring the prosthetic to be downsized.
Glass eyes are a thing of the past in the United States. Prosthetic eyes are now made of acrylic. Advances in ophthalmic surgery now often allow replacements to move with their active mate, disguising their artificiality. I was in an examination room with a mother, fathe and daughter, who were visiting the office together for the first time. Although mom had a prosthetic for years, her daughter did not know about it until the visit. The mother was in to have her prosthetic resized.
To create a properly sized replacement, an ocularist must first take an impression of where the eye used to be, using injectible, flexible molding material.
An impression is made of the cavity where the eye used to be.
That impression is used to make a mold. Which is used to make a 'working model' of wax.
That material is then put into a mold, which is cured and used to produce a wax facsimile of the missing ocular material, which is then inserted into the patient to check for size.
Then the "art" aspect of the "art and science" comes into play. Looking into the eye of the patient, the ocularist paints an iris to exactly match the one the patient still has. In older eyes, where veins may be visible, the ocularist may use curled strands of thread to replicate those veins.
She matches the newly painted iris to the patient. (This patient is receiving a resized prosthesis).
The painted iris is then inserted into another mold, made from the modified wax facsimile. That mold will be filled with acrylic material that will be cured to make the final prosthetic device. The eye takes shape.
John Trawnik has been working in his father's office since he was 12. He's becoming a central figure in the practice. Now he's a Board Certified ocularist just like his dad.
"There's great satisfaction in helping people feel better, " John Trawnik says. There are only thirteen ocularists in Texas. Many states have none. Patients come to this office literally from around the world because of the renowned quality of the work, and the emotional support they receive while they're here. Many of them have been patients for years, who visit repeatedly as their eyes change shape. Most were so comfortable with the demeanor of the staff that they let me watch the fitting process. Despite nearly two decades in the practice, John doesn't see himself tiring of it.
Randy Travnik is not a physician but he sees his vocation as a medical and social mission.
Entire families accompany their injured parents and siblings to this office on their journey toward wholeness. When they leave, their vision may not have improved, but they see the world in a different light.

A Patient Profile:
Lauren Scruggs Kennedy

Two months after a plane propeller sliced the left side of her body, fashion blogger and one-time Gossip Girl wardrobe intern Lauren Scruggs was fitted with a prosthetic left eye today.
Her left eye and arm had to be removed after the accident. She has already undergone some reconstruction on her left face and shoulder. "It is beautiful," Lauren's mother Cheryl Scruggs wrote of her daughter's new eye on the Caring Bridge website, which she updates regularly about her daughter's recovery.
"Jeff, myself, Lo and Britt showed up at 9am at the ocularist,' Cheryl wrote, using her daughter's nickname, Lo. We didn't know what to expect, other than it would be an all day process from 9 a.m – 5 p.m. Another new step. She was fitted and measured. The ocularist carefully painted and shaped the new eye. By 5 p.m., it was done, and her new eye was in place. Thank you God for providing. Bittersweet…"
She added that the family had met with professionals this week about options for a prosthetic limb. Lauren, 23, has been recovering for nearly two months since she accidentally walked in front of a plane propeller in Dallas after taking a ride with a friend to see the city's Christmas lights.
Best of luck, Lauren. Stay strong.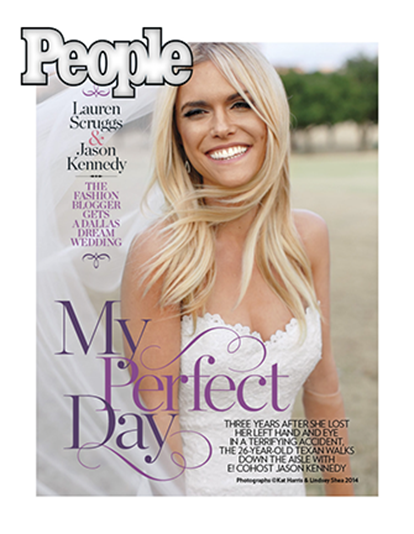 Here's a nice update
story on Lauren

Lauren Scruggs, who is a fashion blogger, found herself in the news in December 2011 after a plane propeller accident robbed her of her left eye and arm.

By Diana Pearl – People Magazine
Posted June 14, 2017

The incident left her insecure about love. "I wondered if men would ever find me attractive again," Scruggs recently told people. But she made a miraculous recovery, and her journey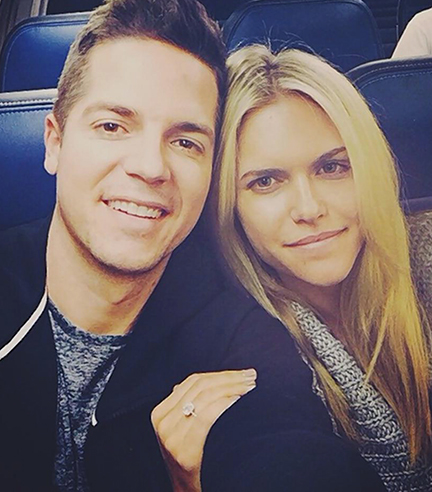 gained national attention — including an interview on E! News in 2013. After meeting Giuliana Rancic during the show, Rancic told her she thought Scruggs should meet her co-worker, Jason Kennedy. "I didn't know who he was. But she told me that he had this amazing Bible study in Los Angeles and had great friends," Scruggs told PEOPLE. "She texted Jason and asked if he was going to be on set. When I was asking Giuliana about places to go hiking, she told me, 'Just ask Jason places to go. He hikes all the time.' " When he showed up to set, she did ask, and Kennedy gave her a few suggestions — plus his number
The First Date
Along with his number, Kennedy told Scruggs that he'd love to come hike with her the next day. So Scruggs, Kennedy and Scruggs' mother went for a hike in Los Angeles. The connection, Scruggs later said, was instant. "It was such a fun hike," Scruggs recalled. "We had the best conversation. It was funny, because Giuliana was saying, 'I feel like you two would be so good together.' And [after meeting him], I thought, 'I think you might be right.'
The Long Distance
However, there was one roadblock on the way to love for the couple: Scruggs lived in Dallas, while Kennedy's E! News job kept him in L.A. But they made the miles seem short with regular visits, as well as trips to locales like Italy and Mexico. "We see each other pretty frequently," Kennedy told PEOPLE in September 2013. "She was here last weekend, the weekend before. I'm going to be in Dallas with her next weekend. So it's going great. She's amazing."
The Engagement
Things were so amazing, in fact, that Kennedy just couldn't wait to propose — he popped the question in May 2014, less than one year after they first started seeing each other. Scruggs thought she was impossible to surprise, but Kennedy managed to pull it off. He lined her Dallas apartment with white tulips, which led to her balcony. On the ground outside, Kennedy had written, "Will you marry me?" in candles. "I walked onto the balcony and saw the candles," she told PEOPLE of the proposal. "He said, 'I have a question to ask you, can you come down here?' I was just seriously shocked."
The Wedding
They couldn't wait get married, either, tying the knot in December 2014 in Dallas. The day had its issues: Kennedy's mother fell and dislocated her hip just hours before the wedding, and almost didn't make it to watch her son say his vows. Luckily, she was able to attend (albeit, in a wheelchair). The couple danced the night away and enjoyed their time together. "Jason has completely changed my life, and I could not be more thankful for who he is and how he loves me," Scruggs said. "I can't wait to spend forever with him."

Seeing Is Believing:
Half-Blind Isaiah Austin's Unique Journey to the NBA Draft
Jared Zwerling – bleacherreport.com
June 19, 2014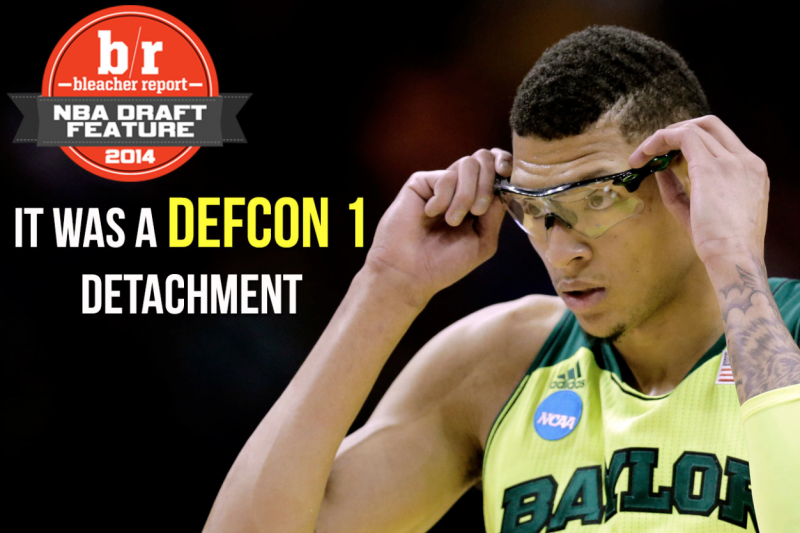 AP Images
Randy Trawnik is a world-renowned ocularist who hand-sculpts prosthetic eyes, either in his office in Dallas or in Germany. Most of the time—60 percent, he says—Trawnik works on trauma victims and patients who have developed eye problems in the early stages of their lives. Some of those have included professional athletes who are still playing today.
But in his 40 years in the profession, Trawnik has never treated someone like Isaiah Austin, 20, who started suffering blindness after injuring his right eye in a baseball accident six years ago. Now, fully blind in that eye, Austin could be one of the 60 players selected in the upcoming NBA draft. "What he has done is unbelievably unique," said Trawnik, who lost his left eye around Austin's age years ago when he was shot in the face during U.S. military training. Unlike his other patients who play professional sports, Trawnik said that because Austin went blind later on "he didn't have the many years to retrain himself."
So how did the Baylor big man overcome the loss of his sight to become one of the best shooters and shot-blockers in the country? While Austin experienced months of misery, his recovery was fueled by a relentless drive for a sport he loved, a strong network of family, friends and coaches, some science and good genes.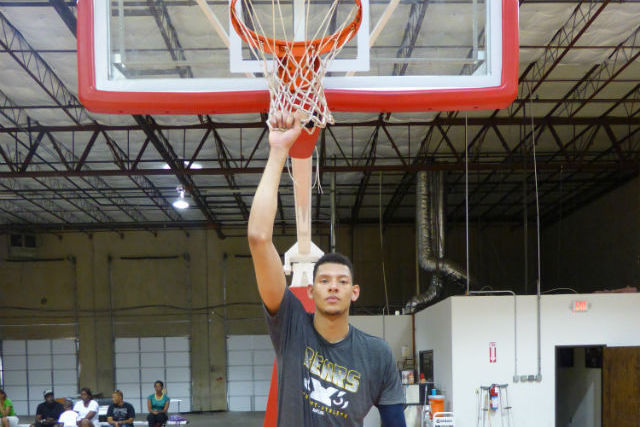 Jared Zwerling
The Journey Begins
The root of Austin's disability started with an accident while he was playing a position he had never experienced before: first base. Austin had been attending a summer baseball camp in 2005 when he was 11 years old, and he was placed at first base because of his height. "I think they thought I was older just because I was so tall, so they put me in the older kids' group," the soft-spoken Austin said over breakfast recently in Arlington, Texas, near where he resides. "I was on first base, and I remember the pitcher kept faking it to me. I was like, 'What is he doing?' I really hadn't played baseball that long, so I didn't know that the pitcher can throw it back to first and try to get the person out. "So he faked the pitch and he threw it, and I put my glove up like a half-a-second late, and the ball just smashed into my eye."
Austin went to the hospital because his eye swelled up and his contact lens got stuck. Doctors said he had a loose retina. But no surgery was required; he was simply told to monitor any pain. Little did he know, his eye would gradually get worse In February 2008, everything came crashing down. It was the last game of his middle school basketball career, and Austin had never dunked during layup lines. That's because there was a strict rule against it: two technical fouls, and you're out of the game. But working off of adrenaline, Austin took off, cuffed the ball back with his left hand and jammed it down. The crowd went wild and a double tech ensued, but no one but Austin knew what he immediately saw out of his right eye: red. It was blood. The powerful nature of the uncontested dunk had detached his retina, which was the diagnosis the next morning when he went to the emergency room. "Throughout the years, we didn't know it, but [his eye] was getting more and more loosened," Austin's mother, Lisa Green, said. "The dunk was the last straw."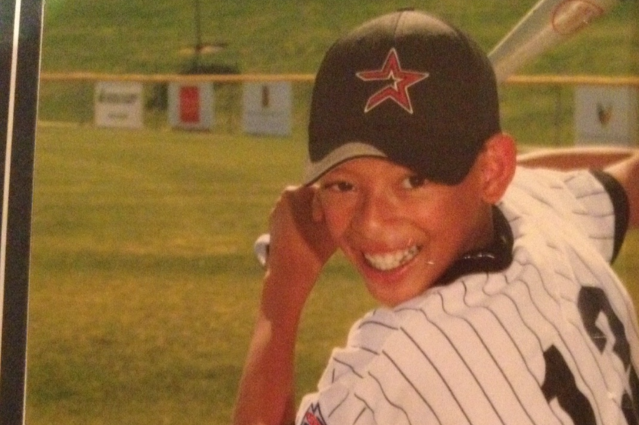 Courtesy of Lisa Green
Dallas ophthalmologist Dr. Gregory Kozielec, who has treated Mavericks players through the years, was the first to repair Austin's retina the day after his emergency room visit. Dr. Kozielec called the situation "one of the worst cases I had in 20 years." While 99 percent of his consultations involve spontaneous detachments to people who are nearsighted, older in age and have a family history of the condition, Austin was an extremely rare patient.
"When I first saw him, his eye was a disaster. It was a DEFCON 1 detachment," Dr. Kozielec said. "A detachment is almost like wallpaper peeling off the back of a wall. In young kids, that comes off pretty rapidly and becomes a big disaster. He saw red, and he already had an eye that had been injured from his previous baseball injury. "When he came in, it was completely detached, and he already lost vision. So he basically was blind walking into my office on Monday evening. We fixed it, but unfortunately, as young kids can do, it detached again [later on], and then from that point it was just a struggle effect. He had a bad prognosis to begin with."
Austin went on to have four more operations that year in an attempt to save his eye: to further fix it; to remove silicone oil that's used for serious detachments and keeps the retina intact; to correct a cataract; and then to clean out scar issue, which was the last operation, in June 2008. By then, Austin's vision had actually been restored—but not before going through days of excruciating pain after each surgery.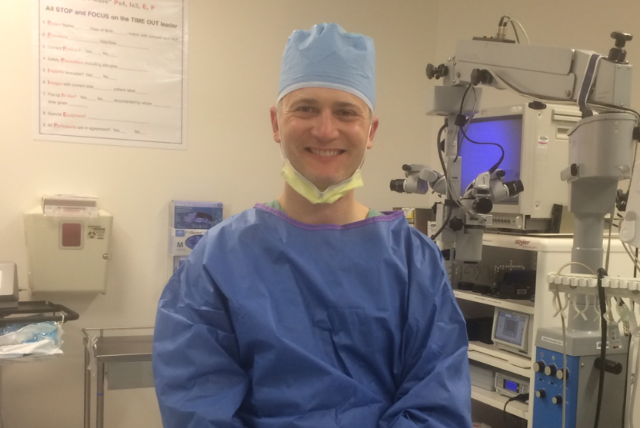 Courtesy of Dr. Gregory Kozielec
"It felt like needles in your eye. That was the most painful part," he said. "The first four-to-five days after the surgery, it was terrible. They give you some painkillers after, but it doesn't really help. You try to sleep it off as much as you can."
After going under the knife each time, Austin went through a longer extreme challenge. For his eye to heal afterward, he was required to lay face down for essentially 24 hours a day for weeks at a time. No exercise was allowed in order to prevent any stress to his eye. He could really only get up to use the bathroom. His father, Ben, would pick up his homework at the middle school and help him study while he lay down. His family even placed a mirror on the floor next to a special massage-like table he had to lay on so he could watch TV and see who was coming into his room.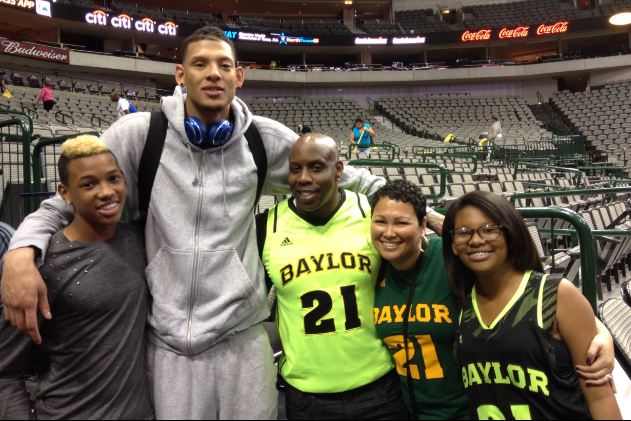 Courtesy of Lisa Green
It was Austin's close-knit family, who had recently moved to Texas, who helped him get through the ordeal—even though there were many tough, teary-eyed nights. But they prayed a lot together, with the positive-minded Green always reaffirming to her son, "The belief part is easy; the trusting is where the journey begins."
Austin's brother Noah, who's now 15 and a standout track runner, and his sister, Narrah, who's 11 and a talented artist, entertained their oldest sibling by making him laugh and smile. For Mother's Day that year, Narrah decorated a colorful shoebox for Austin to express her love for him. Noah would call Austin "his superhero," and they played video games together. "They were always by my side," Austin said. "My little brother and sister would come in my room and just spend hours of the day just to be with me." The biggest motivator was Austin himself. "He just toughed it up," Green said. The light at the end of the tunnel was basketball.
"It's just like any other person: They'll do anything for something that they love," Austin said. "I loved the game of basketball and I didn't feel like giving up on it, so I just wanted to continue to play. … And my two best friends, who are twins, Elliot and Elijah Dickrell, were like, 'Man, you're the best basketball player we know. You can't give up or quit on us.'"
Following his final operation, which repaired his vision, Austin was the weakest he had ever been, but he had the rest of the summer to regain some of his strength and conditioning. By November 2008, at Mansfield Legacy High School, he returned to the court and was the only freshman to make the varsity team. A big plus was that he was 6'11". That season, Austin had his coming-out party when he finished with 16 points and 12 rebounds in a win over top-ranked Duncanville High School.
Life Changed, Forever
Austin's right eye remained stable until September 2009, when he was a sophomore at Grace Prep Academy. At that point, scar tissue was pulling the retina back off again. That's when Austin's real moment of truth arrived: He could go through another surgery — maybe more than one—with no guarantees, or cope with the reality that the vision in his eye would eventually be lost with nothing done. "That's when he said, 'Enough's enough,'" Dr. Kozielec recalls. "He had already been through hell. He had reached his level of acceptance.He reached a level of I can't do anything more for this eye, which requires more face-down, more time away from sports. He felt like 'I know who I'm going to be—I'm going to be great at what I do and I need to move on.' "It was a tough decision to say, 'I'll see you in six months [for a checkup],' rather than, 'I'll see you next week [for surgery].'"
Austin, especially, couldn't imagine laying down for long stretches again. In fact, he avoids sleeping like that today. "I never lay on my stomach anymore, like ever," he said.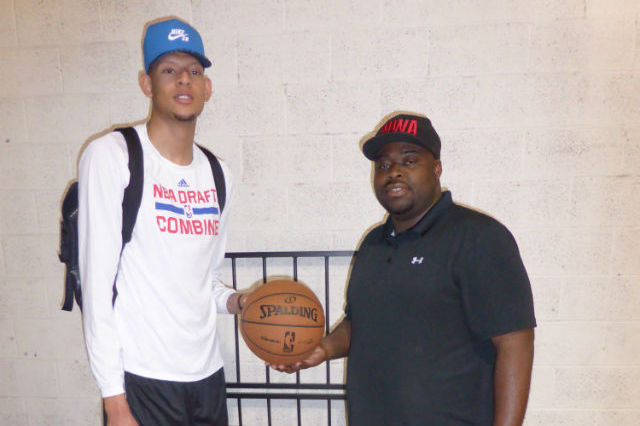 Jared Zwerling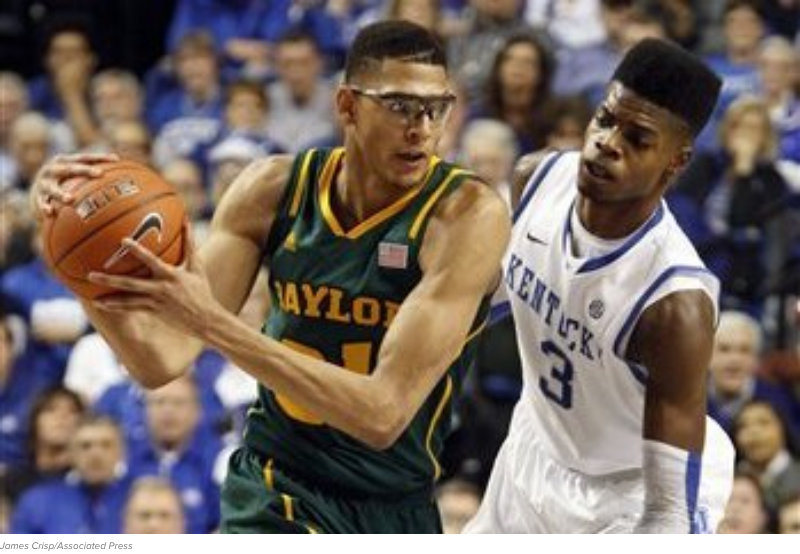 When it came to basketball, though, Austin began to struggle adjusting to his diminishing sight. He needed a push, which came from Grace Prep's basketball coach, Ray Forsett. Austin said before that time he was too much of a passive player, but Forsett "really brought that dog out of me."
"My biggest thing with him was, 'You made it this far, so why give up? You have a special gift. Keep pushing, keep working, hold your head up, there's nothing to be afraid of,'" said Forsett, who had never coached a player with a disability before Austin. "On the court, I've never given him that as an excuse. It was always, 'You're a player. When you get on the floor, you're just like everybody else — two eyes, everything — so you're going to make plays happen.' When I first got him, he said, 'You're crazy, coach.' But he was able to do it with no excuses and no complaints."
Green called Austin's meeting Forsett the "turning point in Isaiah's basketball career. Ray Forsett was really the one that gave Isaiah the confidence to be the best that he can be, and saying that nobody can challenge him and he can get just better and better," she said. Forsett encouraged Austin to establish himself further on the national scene at the prestigious City of Palms tournament in the winter of 2010. After being down 20 points at halftime to top-ranked Mater Dei High School, Forsett had a heart-to-heart talk with Austin, who said, "But I can only see out of one eye." Forsett responded, "Stop making excuses for it." Austin shot around 80 percent for the rest of the game, and Grace Prep came back to win in overtime. The next day, they upset another powerhouse, Montverde Academy. "That moment in him is when he became a superhero," Forsett said. "He just controlled and just dominated the game, and he was playing against guys with both eyes."
Over time, without any more procedures, Austin's eye started drooping more and changed color from brown to gray to finally blue—the process of an eye dying. It had shrunk to the point where he had no pupil during his junior year. He was officially blind in his right eye—a moment he knew would come.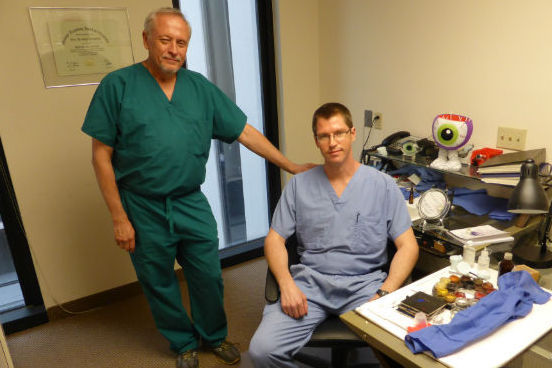 Jared Zwerling
"That's when he said, 'Mom, you've got to do something because people are going to start talking,'" Green recalled. "And so that's when we went to get a prosthetic eye at the end of his junior year [in 2011]." Luckily for Austin, he had the local cosmetic services of Trawnik, who along with his staff of two — his son, John, and colleague Sarah — designs prosthetic eyes by hand. "We paint the iris with different colors of pigment," said Trawnik, to whom Austin was referred to by Dr. Kozielec. "The eye is lots of pigment all pushed together. Digital ones look flat. Ours look 3-D." When Austin came to the office, Trawnik took an impression of his eye socket—the only step required for a patient, which is not painful—and then his team went to work, designing his prosthetic eye made of polymethyl methacrylate (acrylic glass) in about a day.
Trawnik vividly remembers Austin's and Green's reactions upon seeing him look in a mirror with his new prosthetic eye when they were together in his office. "Isaiah is not very demonstrative, but what's more fun than anything else is putting a mirror in front of him and seeing a smile on that young man's face," he said. "And his mother was crying. She's a great lady." Trawnik added a special design element for Austin: an appropriate gaze so that when he looks down, which he does a lot being that he's taller than most people at 7'1″, it still looks like a normal eye. Because the nerves behind his right eye still work, the prosthetic—which is removable, professionally cleaned once a year and needs to be replaced every 5-10 years—moves along with it.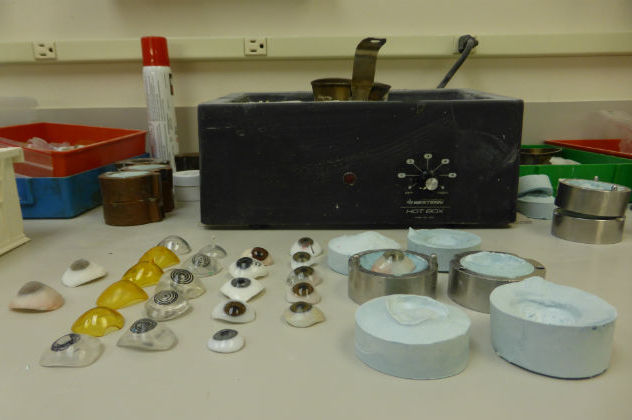 Jared Zwerling
"What we do is art," Trawnik said. "See, we paint an illusion. If we all do our magic, no one knows we were there. My hope for Isaiah is that he looks so good, his opponents will forget which eye is real and which one is a prosthesis. In the rapid play and movement of basketball, that illusion is easy to do. Isaiah is a master of movement." That movement is based on triangulation for someone like Austin, who only has one functional eye.
"You can't get 3-D vision, but what you do is compensate by movement," Trawnik said. "He's always moving. By movement, he's changing angles, checking this and that. If he sits still, his depth of vision is reduced, but if he's constantly moving, he has calculations going on all the time." Even though Austin tested 20/20 in his left eye at the NBA Draft Combine in Chicago, it hasn't become stronger to compensate for his other eye, according to Dr. Kozielec. Instead, Austin has learned to pick up certain cues, such as basing distances on shadows in comparison to other objects. That's why he takes the court much earlier than other players before games to gauge the arena's lighting and depth perception behind the basket. "It just takes me a couple shots to get used to where I'm at," he said. "I can't just walk into a gym and just have perfect depth perception. I have to go and test it out."
Green believes that through the disability he's improved other senses as well. "It's mind over matter," she said. "When you lose a sense, they always talk about that sixth sense. If I'm walking on the right side, before he wouldn't even hesitate to know I'm there. But now I think he's more aware that someone is on his right side even if he can't see them. And because he's so mathematically inclined — his favorite subjects were math and science — I think in his head he's always calculating things when he's playing. He always keeps his head on a swivel. So I think he's become a better player overall." Dr. Kozielec said those roughly six months after Austin's retina issue resurfaced in September were the most challenging for Austin, as he attempted to find his way on the court. But even while dealing with some left-eye strain at times, he didn't let up practicing and developed the muscle memory to be successful, remarkably so with shooting — an area which maximizes eye-hand coordination.
By his senior year in 2012, Austin was the No. 3 overall recruit in the country, as ranked by ESPN, right behind current NBA players Nerlens Noel (Philadelphia 76ers) and Shabazz Muhammad (Minnesota Timberwolves), and ahead of Steven Adams (Oklahoma City Thunder) and Anthony Bennett (Cleveland Cavaliers). "I never thought he'd be at the level he's at," Dr. Kozielec said. "It's almost impossible, because you're so used to your whole life having two eyes and developing all these cues. The level he's playing at and the length of time that he's had this problem, I think he's pretty much almost good as new."
Austin has taken cues from others who have a prosthetic eye, like Lauren Scruggs, a blogger and fashion journalist who received international attention after she accidentally walked into a moving airplane propeller in 2011 and lost her left eye. They met through Trawnik. Another time, a movie director with a prosthetic eye — Austin doesn't remember his name — approached him at an airport, and they shared stories. "We talked for a while," he said. "That was pretty cool."
Inspiring Others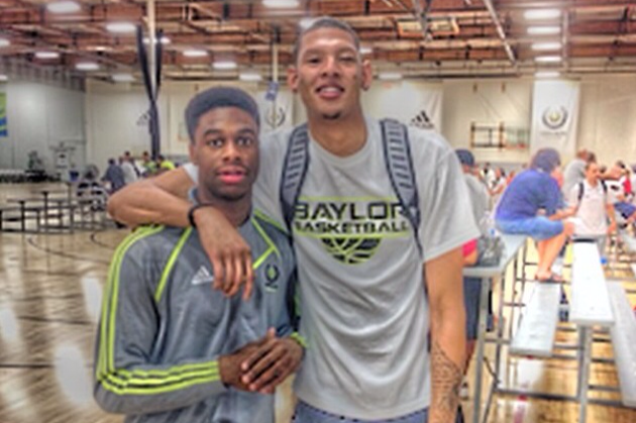 Courtesy of Isaiah Austin
Emmanuel Mudiay — the No. 5 recruit in the class of 2014 and Austin's former teammate at Grace Prep who has signed on to play for Larry Brown at SMU—remembers one time in practice with Austin when he covered one of his own eyes and tried to shoot. He couldn't do it. It was a moment that helped Mudiay further understand "how amazing" Austin was. His trainer, Djamel Jackson, tried the same thing at a different time. No success. "I was blown away, man," Jackson said. "Being human, I started closing my eye and trying to do some of the stuff. It's tough. I put my hand over my eye and I couldn't do nothing. I started realizing how special the kid was."
Up until this year, Austin kept his blindness private to all but his Grace Prep and Baylor teammates. The colleges that recruited him didn't even know. He never wanted it to be an excuse for people to feel sorry for him. While Austin knew he would need to reveal his condition publicly before declaring for the draft, he thought this year was the right time to do so because he wanted to first prove that he had matured as a basketball player — not a basketball player with a disability. That was one of two main reasons why he didn't enter the draft after his freshman season — the other was a six-month recovery from last May to September after right-shoulder surgery.
After leading Baylor to the NIT as a freshman, he took them to the Sweet 16 this season by expanding his game on the defensive end. "I just feel like I'm just a completely different player," he said. "Even though some of my [offensive] stats were down [this season], I still feel like I developed on the court. I have a knack for the game now. My team really didn't need me to be a priority scorer like I was my freshman year. They needed me to block shots and control the paint on defense, and that's what I did. I changed my game. I evolved for us so we could go on a winning streak."
When Austin revealed his blindness on ESPN in January, the letters started pouring into Baylor from all across the country. He said one woman sent him a series of poems about "encouraging, strengthening and having the willpower and faith in God."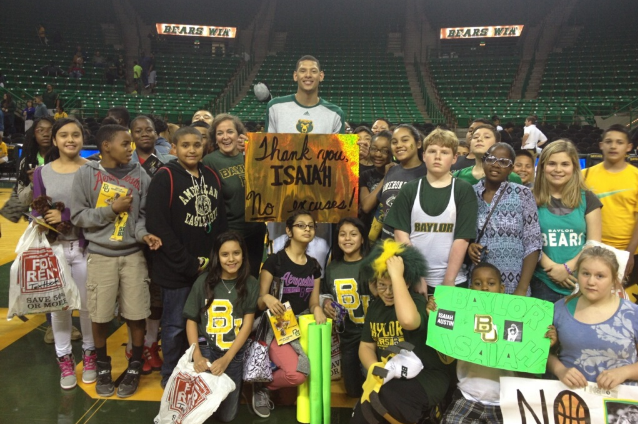 Courtesy of Lisa Green
"So I've got like a bunch of fan mail with people saying they respect my story and stuff like that," Austin said. "That's really what, for me, what life is about — seeing all the people that you can help, inspire and touch across the world. It's really crazy." Austin, who didn't expect to have as big of an impact as he did, hopes to motivate many more. "I think I'm going to come out with a book eventually—me and my mom have been talking about that—but right now, I just want to use [my story] to take me as far as I can go and help inspire a lot of people. I plan on going to hospitals in whatever cities I'm in, I plan on having conversations with elementary school kids. I had a couple of speaking segments when I went to Michigan. I went to a couple of elementary schools there. That's what I'm trying to do right now." Austin's siblings have been moved by their older brother. They both want to be doctors when they grow up: Noah, a neurosurgeon, and Narrah, a scientist. "Isaiah really inspired them to want to do better and to help other people," Green said.
Even Dr. Kozielec was touched by Austin's ascension. "I can't wrap my mind around where he's at. It's just unreal," he said. "He's motivated me to know that maybe there is hope in very difficult situations with other patients."
The Next Step: The NBA
When Austin was at the NBA combine in Chicago, team officials wondered the same thing anyone would crossing paths with him: How do you do it? Austin said he was taken aback with the overall reaction. "It surprised me how many people said that they were on my side and rooting for me," he said. "Even teams that didn't have interest in me, they said that they were rooting for me and hoped that I had a long career."
That positive vibe has carried over to Austin's workouts with the Boston Celtics, Dallas Mavericks, Detroit Pistons, Memphis Grizzlies, Phoenix Suns and San Antonio Spurs. He has about six more to come, according to his agent, Dwon Clifton, who worked for the Baylor basketball team between 2008 and 2010, before Austin arrived on campus. Clifton said teams are looking past his eye. "At this point, the teams that he's worked out for, a lot of them like him," Clifton said. "He's kind of in the mix for everyone. The feedback hasn't been, 'Hey, this guy is ready to play right away,' but the only thing you need is a team to believe in you as a project to give you an opportunity, and the rest is up to him."
Austin said the thought of hearing his name called on June 26 gives him "goose bumps." He might travel to New York City for the big night or stay back to watch with his family in Dallas or Kansas City, where Green lives. With Austin's obvious skills—his size, 7'3″ wingspan, shooting and shot-blocking — there's the thought that he could further revolutionize the stretch-5 position, like 6'11" center Pero Antic did this season for the Atlanta Hawks, who nearly upset the Indiana Pacers in the first round of the playoffs. There's also the New Orleans Pelicans' versatile All-Star big man Anthony Davis, whom Austin watches a lot on video.
Clifton said teams have also been impressed with Austin's low-post footwork and finishing. Jackson has challenged Austin to learn the type of back-to-the-basket moves made famous by Hakeem Olajuwon and Dirk Nowitzki. Sometimes, Jackson will be watching a clip of one of those two NBA legends and text Austin about what he sees. "'We've got to go over this Olajuwon stuff in the morning,'" Jackson said he'll tell Austin. "And he's like, 'I'm up. I can be at the gym in 10 minutes.' We've worked until two in the morning. He learns fast. I can cover a lot of stuff with him."
While Jackson said there are times when Austin looks flustered after missing a couple of shots in a row, he said his student never complains about his eye; he only compensates. Mudiay saw the same quality in high school and learned that if you "just give him a couple touches early on, he's going to feel good about himself as the game goes on. He plays through [the frustration]," Jackson said. "He's a tough kid."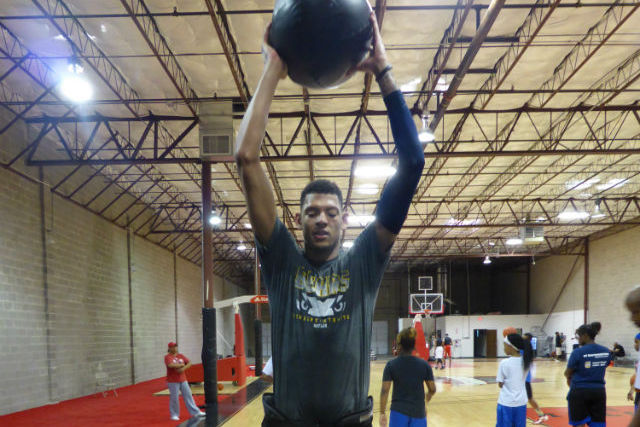 Jared Zwerling
Austin has adopted the same mentality approaching a draft that might have seen his stock drop after he admitted to being half-blind. "I just want an opportunity to play for a team," he said. "Only 60 people get picked, and half of them don't even stay in the league. So I really just want to stay in the league and have a nice career. But at the same time, I know basketball isn't for everyone. I know the ball is going to stop bouncing, so I just want to use it as a stepping stone for my life."
Mind Power
Tattooed on one of Austin's arms is the passage from 2 Corinthians 5:7: "For we walk by faith, not by sight," along with other Biblical words on both of his arms. They're written facing him, so he can read them whenever he wants. "Whenever I get down, I just look down at my arm and it reminds me of what I've been through," he said.
While Austin is not likely to harm his left eye from straining to compensate for his right and will continue to wear protective glasses during games, that's the least of his worries. Even if one day way down the line technology for an eye transplant is available, Austin is satisfied with the man that he has become. "I'm not scared of anything," he said. "I'm not scared of getting hurt or anything because whatever happens is going to happen. I have a strong enough mindset to get through anything. The fact of the matter is I'm not even supposed to be here in this position that I am, so I'm really blessed to even say that I've gone through all those things.
"Life goes on, man."

Windows to the Soul
By BILL MARVEL Staff Writer
Published April 3, 2005
Dallas Morning News
Randy Trawnik bends closer, closer, closer, until he is almost nose to nose with Narin Haji. He stares intently, and the 12-year-old girl stares back. Neither seems particularly embarrassed by this very close encounter, which continues for several seconds.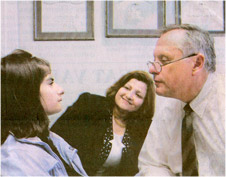 Ronahi Abdullah watches as Mr. Trawnik takes a close look at the prosthetic eye he has made for her 12-year-old daughter Narin Haji.
Then Mr. Trawnik jumps up and walks out of the room. Moments later he is back holding a small object in his hand. He sits and once again bends closer, closer. The object is Narin's eye – or soon will be. He gently slides it into the empty socket, then hands the girl a mirror. She looks, and a shy smile begins to spread across her face.
Narin, whose family came to Dallas from Iraq during the first Gulf War, injured her left eye when she was 2, in an encounter with a glass coffee table. For years the family lived with a dilemma: To try to save the eye, which no longer functioned? Or to have it removed? And then what?
The answer was removal, around Christmas, and now replacement with an artificial eye, created by Randy Trawnik, who is one of only a handful of certified ocularists in Texas. That means he can fashion an artificial eye, an "eye prosthesis," from scratch. (Please don't call it a glass eye; they make them out of acrylic plastics these days.)
Bankers and beauty queens come to Mr. Trawnik. He has been eye-to-eye with the chief of police of Oman, a Saudi princess and a national television news personality whose name he will not divulge. And with lots of infants and toddlers. You'd be amazed how many humans are born into the world without an eye.
He has leatherette albums filled with photographs – graduation photos, wedding photos, class portraits, snapshots with thank-you notes. But it is the before-and-after photos that amaze. One would not guess the absence or presence of an eye would make so much difference. But it does.
"People without eyes are treated differently," he says. And he should know.
An accident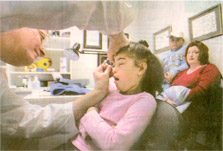 Ocularist Randy Trawnik removes the artificial eye of 6-year-old patient Brianna Thompson.
He aimed to be a soldier. Enrolled in high school ROTC, full of hopes for an appointment to West Point, he was attending a military exercise May 31, 1968 – "I'll never forget that date" – when somebody's rifle went off. It was only a blank, and Trawnik was just turning his head, but the charge caught the side of his face, splitting his nose and taking out his left eye and a chunk of his ear.
Embittered, he switched career goals and eventually enrolled in the University of Texas at Arlington intending to become an advertising artist. "One day," he recalls, "one of my neighbor's granddaughters lost her eye to a BB gun. BB guns are the bane of my existence.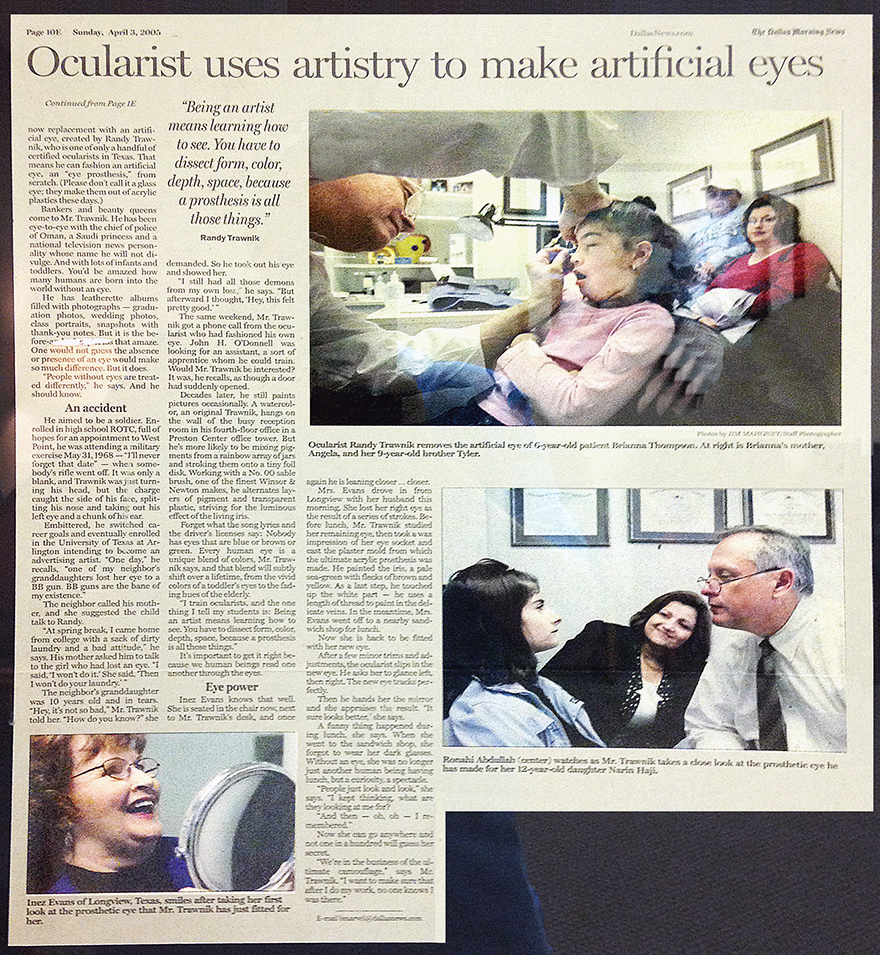 The neighbor called his mother, and she suggested the child talk to Randy.
"At spring break, I came home from college with a sack of dirty laundry and a bad attitude," he says. His mother asked him to talk to the girl who had lost an eye. "I said, 'I won't do it.' She said, 'Then I won't do your laundry.'"
The neighbor's granddaughter was 10 years old and in tears. "Hey, it's not so bad," Mr. Trawnik told her. "How do you know?" she demanded. So he took out his eye and showed her.
"I still had all those demons from my own loss," he says. "But afterward I thought, 'Hey, this felt pretty good.'"
The same weekend, Mr. Trawnik got a phone call from the ocularist who had fashioned his own eye. John H. O'Donnell was looking for an assistant, a sort of apprentice whom he could train. Would Mr. Trawnik be interested? It was, he recalls, as though a door had suddenly opened.
Decades later, he still paints pictures occasionally. A watercolor, an original Trawnik, hangs on the wall of the busy reception room in his fourth-floor office in a Preston Center office tower. But he's more likely to be mixing pigments from a rainbow array of jars and stroking them onto a tiny foil disk. Working with a No. 00 sable brush, one of the finest Winsor & Newton makes, he alternates layers of pigment and transparent plastic, striving for the luminous effect of the living iris.
Forget what the song lyrics and the driver's licenses say: Nobody has eyes that are blue or brown or green. Every human eye is a unique blend of colors, Mr. Trawnik says, and that blend will subtly shift over a lifetime, from the vivid colors of a toddler's eyes to the fading hues of the elderly.
"I train ocularists, and the one thing I tell my students is: Being an artist means learning how to see. You have to dissect form, color, depth, space, because a prosthesis is all those things."
It's important to get it right because we human beings read one another through the eyes.
Eye power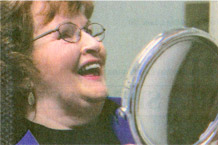 Inez Evans of Longview, Texas, smiles after taking her first look at the prosthetic eye that Mr. Trawnik has just fitted for her.
Inez Evans knows that well. She is seated in the chair now, next to Mr. Trawnik's desk, and once again he is leaning closer … closer.
Mrs. Evans drove in from Longview with her husband this morning. She lost her right eye as the result of a series of strokes. Before lunch, Mr. Trawnik studied her remaining eye, then took a wax impression of her eye socket and cast the plaster mold from which the ultimate acrylic prosthesis was made. He painted the iris, a pale sea-green with flecks of brown and yellow. As a last step, he touched up the white part – he uses a length of thread to paint in the delicate veins. In the meantime, Mrs. Evans went off to a nearby sandwich shop for lunch.
Now she is back to be fitted with her new eye.
After a few minor trims and adjustments, the ocularist slips in the new eye. He asks her to glance left, then right. The new eye tracks perfectly.
Then he hands her the mirror and she appraises the result. "It sure looks better," she says.
A funny thing happened during lunch, she says. When she went to the sandwich shop, she forgot to wear her dark glasses. Without an eye, she was no longer just another human being having lunch, but a curiosity, a spectacle.
"People just look and look," she says. "I kept thinking, what are they looking at me for?
"And then – oh, oh – I remembered."
Now she can go anywhere and not one in a hundred will guess her secret.
"We're in the business of the ultimate camouflage," says Mr. Trawnik. "I want to make sure that after I do my work, no one knows I was there."

Story covering our services at
Deatherage Certified Opticians in Wichita Falls, Texas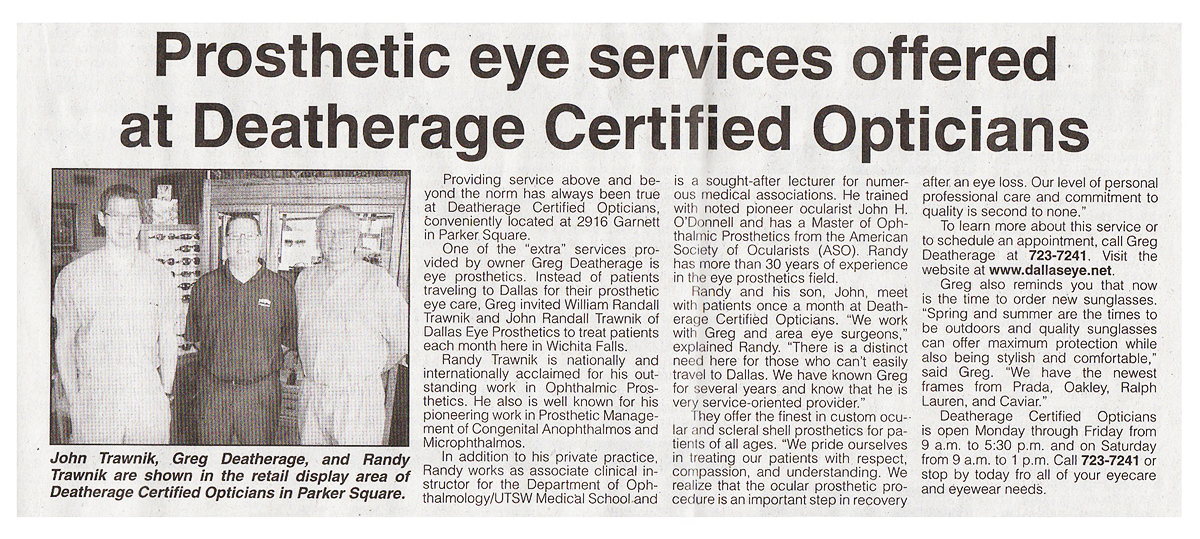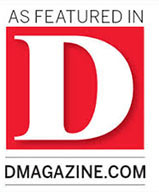 The Eye Guy
Randy Trawnik brings new meaning to the phrase trompe l'oeil
by Stacey Yervasi – D Magazine June 2004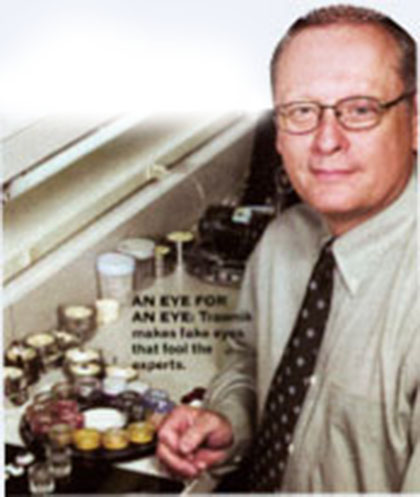 Randy Trawnik sits in his Preston Center office, beaming like a proud father as he leafs through albums containing before-and-after photos of his patients, many of whom are children. But Trawnik is not a doctor; he's an artist. He makes fake eyes—or, more properly, ocular prostheses. And if the images in the albums aren't vivid enough, Trawnik can pop out his own left eye for closer inspection.
When he was 17, Trawnik was shot in the face with a blank during an ROTC training exercise. The injury required the removal of his eye, and it ended his military career. But it also introduced Trawnik to the little-known field of ocularistry. After receiving a degree in art, he began a five-year apprenticeship under John O'Donnell, the pioneering Dallas ocularist who had treated him.
Trawnik is now considered one of the best ocularists in the country. His creations, custom-made to match the patient's remaining eye, have even fooled ophthalmologists. Each prosthetic piece begins as a plain acrylic orb cast from a wax model designed to fit perfectly in the patient's eye socket. Layers of translucent paint give the iris a 3-D look. Trawnik uses red thread to produce the wispy blood vessels. "I consider myself the ultimate stealth artist," he says, alluding to the realism of his prosthetics, allowing his patients to wear them in anonymity. The only easily discernable difference: the pupils can't dilate.
Trawnik's reputation attracts people from around the world, from Saudi Arabian princes to American beauty queens. "I am a big fish in a small pond," he says. His skill and an empathy capable only of a wounded healer are their reward. As if to highlight the bond he shares with his patients, Trawnik introduces me to one, an older gentleman in for a follow-up appointment. The man proudly rolls and crosses his eyes, then asks if I can tell which is artificial. I assure him that I cannot. He and Trawnik exchange knowing winks, content to leave me in ignorance.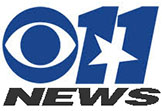 Our featured story on CBS Channel 11 News